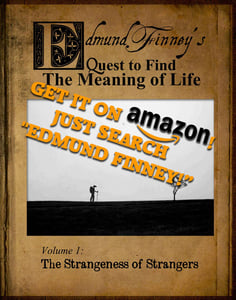 $

6.99
THE BOOKS ARE NOW AVAILABLE ON PAPERBACK AND KINDLE ON AMAZON!
Just go to Amazon.com (or .co.uk, or .ca, etc.) and search "Edmund Finney," and you'll see them!
Prices are $6.99 USD and higher depending on if you want the paperbacks.
Do you want your very own copies of Edmund Finney's Quest to Find the Meaning of Life: Volumes 1 and/or 2? They are packed with extras like art galleries, reader Q&As, and a background into my foray into the comics world!